Surplus Hardwood for Woodworkers, Woodturners, Woodcarvers
Page 4: Wooden Wine Goblets, Beer Mugs, Other Vessels

( Page 1 - Toy and Other Wood Parts and Work in Progress )
(Page 2 - Rough Lumber and Burls )
( Page 3 - Burls: Detailed Images )


Also For Sale: Hardwood shorts, rippings, boards, partly or mostly finished wooden toys and household items,
odd and interesting shapes, Burls, and small pieces of rough hardwood lumber up to 4" thick.
A fascinating assortment of raw materials to stimulate your imagination.
Woodworking Professionals and Hobbyists, Artists, Flea Market Dealers


For more information, contact Ed Loewenton: ed@loewenton.org    More Items for Sale
Wooden Wine Goblets
Woodturner's Special

From 1982 to 1985, a series of wooden wine goblets were made. Porcelain cups were installed in the wooden goblets - these were made to be used for drinking. Wooden bases are solid, not glued. Color and grain on many are excellent. Nearly totally water-resistant, can be hand-washed.

Here are 12 pieces that were not finished or not shipped. One problem with the series is that the shape of the insert rendered them fragile if the piece fell over.
Suggestion: fabricate pewter, brass, or blown glass inserts with a tulip shape that does not contact surface in case of tipping.
All pieces are sanded and oil finished. A cleaning with fine sanding and oil finish is recommended.




This image:

2 finished goblets with damaged porcelain. Excellent solid walnut color and grain. 10.5" tall x 3.5" diam.

3rd piece: made too small for production run, needs lathe to remove mounting base.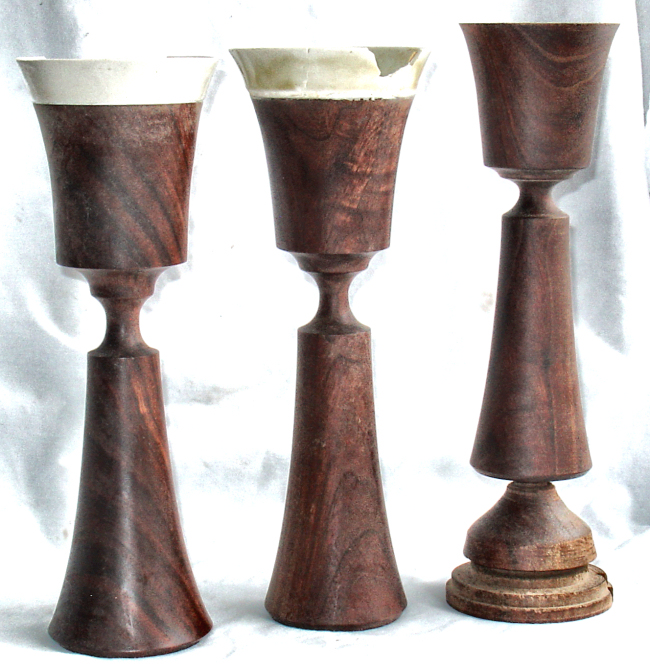 Cherry Wood Wine Goblets
(need inserts). 9+" tall x approx 3" diam.

Beautiful dark red cherry. Center piece has figured maple panel. An especially graceful shape, don't you think?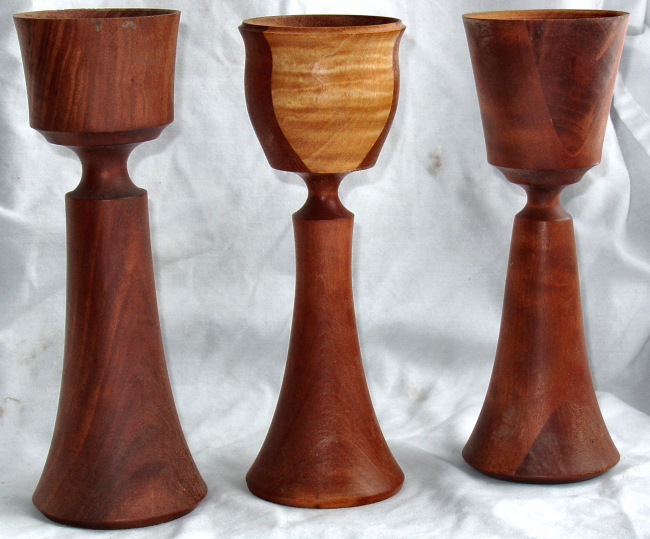 Walnut Wine goblets, 10.5" tall x 3.5" diam. center piece is finished, pieces on left and right need removal of mounting bases. Excellent walnut color.
Three wooden wine goblets, various woods.

Left: Cherry and Walnut with porcelain cup (slight damage). 25k gold overglaze. Approx 9.5" tall.

Center: Walnut and Ash, porcelain w gold overglaze.
Approx. 10" tall.

Right: Walnut.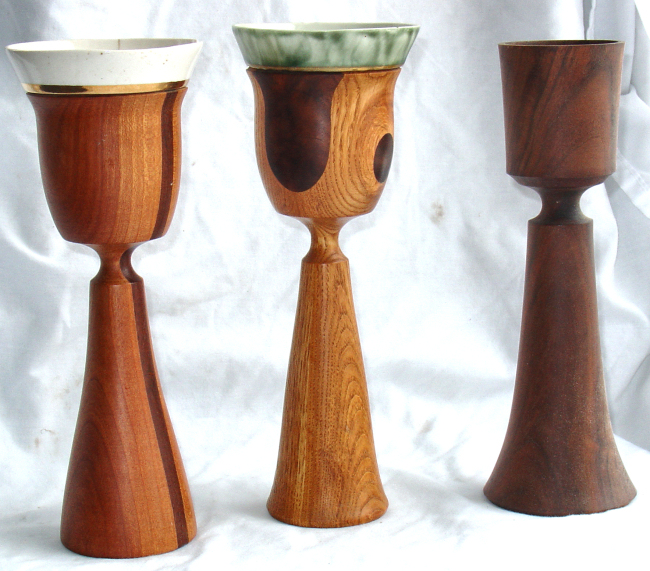 Wooden Beer Mugs
1982-1985

Porcelain inserts were made to fit these, similar to the wine goblets. Plaster mold is available. Never marketed. Only 4 are finished, (probably) not for sale. Suggestion: make pewter or brass cups to fit.

Handle is mortised into cup. These are very dirty, need hand-sanding to clean, re-oiling.

Cup is 4.5" tall, 4.25" diameter.

At right: Oak, birch, walnut. Handles are walnut and oak.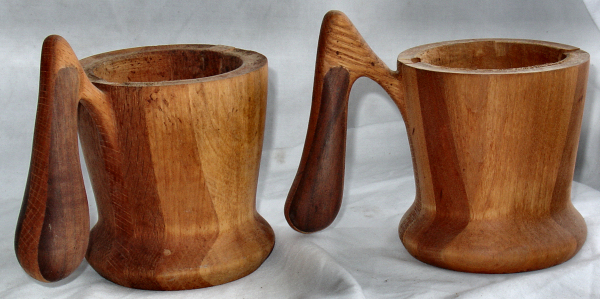 Wooden Beer Mugs

left: Oak and Maple, oak/walnut handle.

right: Walnut and figured maple.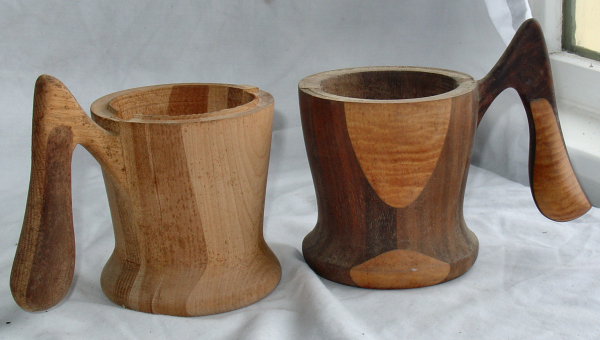 Complete, Finished Product
Wooden Hanging Planter

This is a complete, finished product, used. Wood is urethane-finished inside, oiled outside.

Needs cleaning with brush, water (inside), sanding, 2-3 coats urethane or acrylic built-up resin.


Should be hung with macrame' net hanger.

Walnut and Southern Yellow Pine
6" tall x 6" diameter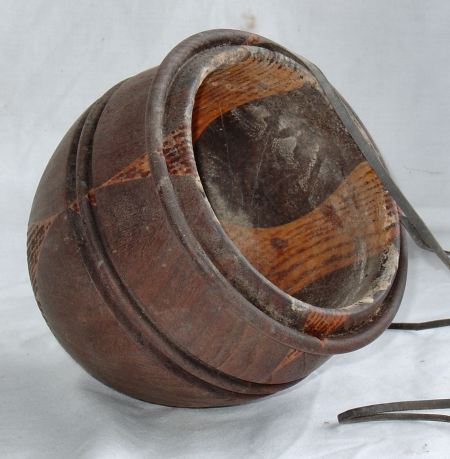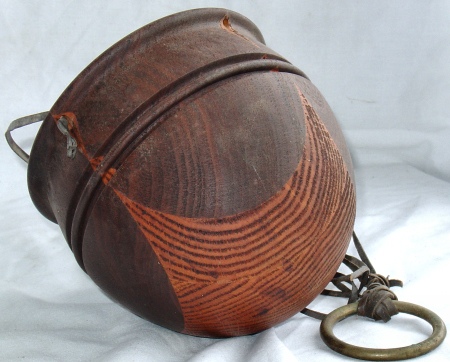 Complete, Finished Products:

Mortar and Pestle Set
x2.75" x 2.75", rock maple, never used.
For spices, herbs.
Waterproof, may be rinsed lightly in warm water.

Mahogany Bowl
Felt bottom. 6" diameter x 6" tall.
Dirty from storage, never used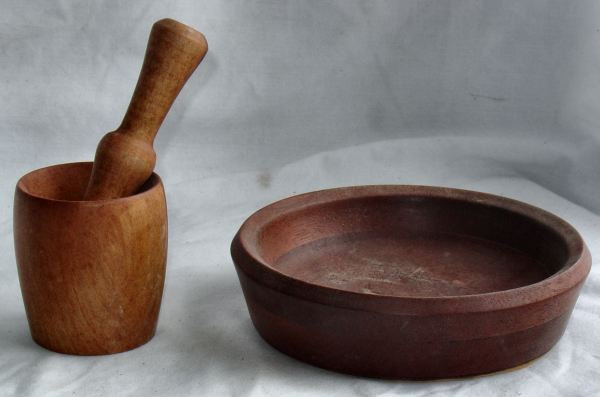 Wooden Chalices
Figured Maple

Custom made in 1982 as gifts for the ordination of a bishop. Not picked up nor paid for by customer.
Designed to accept removable gold or silver cup inserts.

left: 10.5" tall x approx 5" diameter.

right: 9" tall x 4" diameter.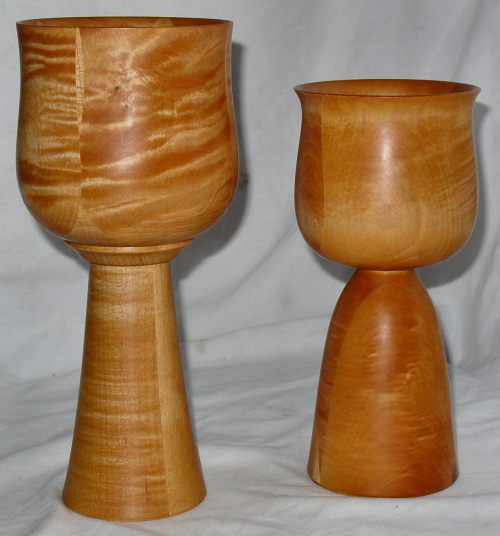 Wood Turner's Special:
Two small turnings in walnut, maple, and ash.

Walnut cylinder with maple top. Intended as a turned box. Finishing: Separate top from cylinder, drill hollow, mate top to bottom.

Vase. Lathe-sand. drill hole. Coat with urethane if using water.