The DRAGONFLY is a full-size, SO-legal, high performance Balsa Helicopter. It is a design lab for builders who have built and flown a basic IMS Parlor Copter kit or similar design with fixed and free-rotating rotors, and understand the basic concepts and procedures.

BUY A PARLOR COPTER or OTHER MODEL AIRCRAFT SUPPLIES at http://turnertoys.com/competition_kits/helicopter_kit_parlor_copter_w_hanger/
Buy models and supplies for endurance competition flying at http://turnertoys.com/competition_kits/


PLEASE READ THIS WHOLE PAGE!


Page 1 and Page 2 show basic construction of the Parlor copter, some modification suggestions, and a few quick, low-cost assembly tricks. You do need to read both these pages.
Page 4 has the instructions, as much as we are providing, for building the DRAGONFLY.
Page 4 includes:
* Building and using rotor jig and other detail for constructing the Dragonfly
* Making a 2.00g motor ; how to use 1/8" and 3/32" motors (supplied with the kit).
* Using Mylar instead of tissue. Easier than you think. Cradle? We don't need no stinkin' cradle!
* The importance of weight
* A carrying box for your model 
* An alternate design for a prop hanger/bearing, using an aluminum tube and balsa block
We edit and (hopefully) improve these pages as often as we can. You would be smart to check them periodically for updates.

We built The DRAGONFLY from scratch, sticking to the basic design concepts of the modified Parlor Copter (Page 1, Page 2). It has a design weight of about 3.95g. A beat-up model at 4.18g flew about 1:45-1:50.
The basic Parlor Copter design as modified by Turnertoys includes:
* free rotating top rotor on rubber motor with ceiling guard.
* fixed lower rotor, attached to motor stick, as low on stick as possible.
* 1/8" motor.
* Tailboom with free-rotating vane
For the DRAGONFLY we added or changed:
* Full 40 cm rotors with cambered ribs
* Shorter motor stick with tapered aft end (to save weight)
* lower rotor below rear motor hook (avoids interference with motor; allows blocking it up so it is in line with motor & upper rotor axis; allows placement a great distance from upper rotor).
* A universal rotor jig that will assemble both upper and lower rotors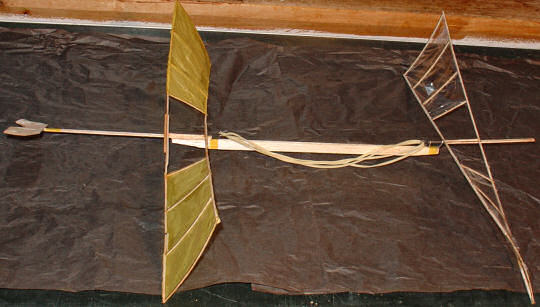 The original finished weight was 3.87g, because the tailboom broke during installation and we were too lazy to rebuild it. After breaking in at least 7 places, including the motorstick, due to our clumsiness and inability to remember where all our limbs are, with resulting added glue and balsa patches, it now weighs 4.18g. Note how the ceiling guard looks out of alignmnent. Somehow it got out of whack, partly due to less than precise construction. This visibly affects stability and flight. The model wanders along the ceiling instead of remaining at one point, wasting energy.
The Motor is a 1.98g 10" double loop (4 strands) of 3/32 rubber on a shortened motor stick. 800 winds yields great initial torque. Thorough lubrication is essential.
Our best flight time in a cluttered room with many collisions with obstacles was 1:45. A large, high-ceilinged room without obstructions would have allowed maybe another 15 seconds.
Further improvement could be had with a clean build of this design, on which the tailboom would be longer, about 11", with a weight of just over 4.00g, using mylar for both rotors. And, of course, avoiding breakage, with the balsa patches and all the extra glue!

The DRAGONFLY Kit includes supplies for building and modifying 2 or more helicopters. All measurements are nominal and may vary slightly.:
* 1/16" balsa for spars, ceiling guard, tailboom
* 1/16" balsa sheet for vane
* 1/8" x 3/8" motor stick - approximately 12". Cut to desired length.
* balsa (utility grade) to make rotor jig: base piece - 14.25" x 3.25" .375 and 2 pcs 1/8" or 3/16" x 3.25"
* a laser cut sheet of cambered ribs
* Mylar film - easy to apply and much more dimensionally stable than paper.
* 3/32 & 1/8" rubber - enough to make about 10 motors
* Hardware, including 18" of .020 wire, Harlan Aluminum prop hangers with 2 teflon washers, aluminum tubing for trying alternate rotor installation design, 6-pack of teflon washers, O-rings, small piece of tissue for reinforcement.
* Instructions, such as they are, are on Page 4 of this series and Pages 1 & 2. This kit is intended for builders who have successfully built a basic Parlor Copter or other model and understand how they work, and want to be able to experiment freely with a good performer that can be further modified. There is no full-size plan drawing. All dimensions are nominal and can be modified.

YOU ALSO NEED (yes, you really do):
*Ambroid cement (not wood glue, CA, or epoxy). Ambroid is easily softened with acetone for disassembly and repositioning if that is needed, and has a little flexibility, enhancing model durability.
*Assembly pins Our Grip Pins are very easy to use.
*A fresh razor knife or single-edge razor blade (the latter is sharper);
* Winder: at least an inexpensive 5:1. A 10:1 is preferred. Do not use our electric winder
* Sil-Slick Lube for better motor performance and longer life. The rubber strands will stick to each other without it.
* .01g Scale to weigh model and motor. You must keep track of weight as you build. If you have a .01 g resolution lab balance handy, that, of course, is even better.


Available at hardware store, various places:
*Fine-point permanent marker
*Round-nose pliers in good condition to bend wire
*Ruler
*Fine-point permanent Marker
*Acetone for a solvent (at hardware store). USE PROPER VENTILATION!
*Small shallow solvent-proof cup or dish to hold small portions of acetone, and to make glue/acetone mixture (glass, metal, ceramic, or polyethylene). Never pour partly used solvent back into original can; take it outside and dump it on the ground. It will evaporate safely.
*Work Board - a flat corrugated cardboard box (new, never unfolded, 2-thicknesses) or a used ceiling tile make good, inexpensive work boards.
* A helper to assist in stretch-winding the motor.