Packaging

SAFETY:
CPSC Compliance

CPSC regs

Wholesale

FAQ
Cleaning, color, etc




MY VERY OWNŽ Rattle is a
safe teether, rattle, and manipulative toy for babies 5 Months to 2 years old.


It is handcrafted from
a single block of pure, natural Rock Maple.
The rings are not put on separately.

The complex textures and shapes and the friendly sound of the rings provide valuable tactile, visual and auditory stimulation.


This classic handcrafted rattle
is the baby toy that the family keeps
for the next generation!

Made in Vermont, USA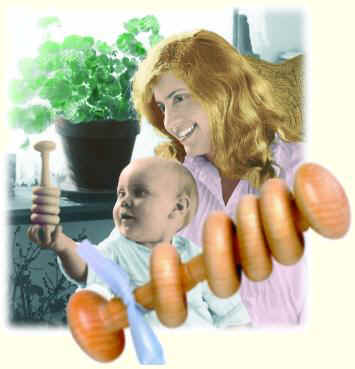 MY VERY OWNŽ Rattle is handcrafted from a single piece of Rock Maple. The rings are not put on separately. Unlike any other wooden rattle, MY VERY OWNŽ Rattle is a single piece at all times, not cut apart and re-glued or assembled from manufactured parts.

No finish of any kind is applied to the wood. There is never a concern about what your baby is putting in his or her mouth beside pure, natural, non-toxic northern Rock Maple hardwood. And unfinished hardwood has been shown to be hostile to germs, compared to plastics and other materials.

The clear package is made from durable, reusable, food-safe PETG. In its factory-sealed package, it is safe, clean, and ready to use.

We recommend MY VERY OWNŽ Rattle for babies 5 months and older. An infant younger than 5 months may have sufficient strength to grasp a Rattle tightly, but not have sufficient control of his or her limbs to bring a toy to her mouth and take it away when he/she desires.
Most infants older than 5 months have developed these motor skills and will enjoy teething on MY VERY OWN ŽRattle. When your baby is starting to push up and crawl, he or she is ready for our Rattle!





Clean with Isopropyl Alcohol(from drug store). Polish dry with clean cotton cloth.
See FAQ for more details.

SAFETY:
MY VERY OWNŽ Rattle complies with federal safety regulations.
Some other teething rattles may not. More details...

MY VERY OWNŽ Rattle is exempt from lead and phthalate testing under CPSIA 2008.

PLEASE REMEMBER: Remove Ribbon Before Giving Rattle to Baby!
Wholesale Inquiries
Retailers: "What does the packaging look like?"

Retail Purchases: call 802-888-3375 (Please have credit card ready)
If you reach my voicemail, please leave a message!
OR - send email to ed@loewenton.org

"How do I clean MY VERY OWNŽ Rattle?" and other Frequently Asked Questions

What do parents think about MY VERY OWNŽ Rattle?
Read Twenty Years of Love Letters to MY VERY OWNŽ Rattle.
See what the babies think, too! More cute baby photos!

A FEW (MORE!) WORDS ABOUT RATTLE SIZE, RATTLE WEIGHT, AND INFANT AGE:
Isn't it too big for a baby? what if a baby hits himself? Etc. Etc.


We have noted around the internet that some wooden rattles are offered for sale that may not be in compliance with Consumer Product Safety Commission regulations intended to minimize the risk of choking caused by products intended for infant teething.

Below is the relevant excerpt regarding rattle end sizes allowed or banned by CPSC regulation 16 CFR (Code of Federal Regulations) Part 1510
Section 1510.3
No portion of a rattle, when tested in accordance with Sec. 1510 below, shall be capable of entering and penetrating to the full depth of a cavity in a test fixture with dimensions shown in fig. 1.
There is a general misunderstanding among consumers, and even some of the smaller toy producers and retailers, that the "small parts test cylinder" is the appropriate test device for all products intended for use by children under 36 months of age.

Note that the the test cylinder shown at right is not intended for testing teethers, pacifiers, and other products whose main use is sucking, chewing, or mouthing by infants.

The standard cited above for rattles, and the fixture for testing compliance with that standard, are more stringent than for other children's products.

The Small Parts Test Cylinder
(1.25" diameter) is not intended
for testing teething toys
Reducing this requirement to simple dimensions, a rattle end must be at least 1 11/16" (1.688") in diameter. The actual combination of largest diameter and shape will determine the compliance of the product with this regulation, and for certainty it is best to use the test fixture.
MY VERY OWNŽ Rattle complies with this regulation, while keeping the weight of the toy within limits suitable for handling by a small infant. Spherical ends, for example, might be in compliance, but would be significantly heavier.
We have seen some very attractive wooden rattles offered for sale, one end of which was a long, thin handle intended for grasping by the infant. This shape would almost certainly be non-compliant.
Non-compliant rattles are banned from sale in interstate commerce. For the complete text of Regulation 16 Part 1510, visit http://www.cpsc.gov/BUSINFO/testrattle.pdf

Read more about choosing a safe toy at http://loewenton.org/lead-hazard/Toy-Hazard_20080320.htm

Retail Purchases: call 802-888-3375 (Please have credit card ready)
If you reach my voicemail, please leave a message!

Top Of Page