Ed L, Paul D, & David B. picked the perfect day for this short but very steep and strenuous climb. The day was crystal clear and calm, in the 40's, and in the high 60's in the sun. The snow on this trail gets treacherously soft, wet, slushy and rotten near spring, and a hiker is likely to break through the surface and disappear into some pretty big holes on the downhill side of rocks, but this day the snow was still firm. Even the 2 stream crossings were easy on solid snow bridges.
During the day, we crossed paths with many skiers and snowboarders on their way down. Some had walked right up the steep gulleys, not bothering with the trail itself.

The biggest challenge on Hellbrook in winter is finding it: it has more twists and turns than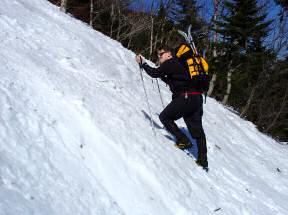 A steep section farther up the trail. Poles and crampons make it easier, but snow-balling on my crampons meant I was carrying an extra few pounds on each foot as the sun softened the snow.